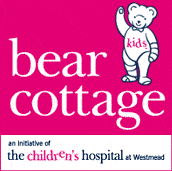 On the weekend I went to the Gala Dinner called the "Bear Affair"  for Bear Cottage.  Bear Cottage is an amazing place that provides an incredibly valuable service to children and families that really need it.
In the last post I challenged you to contemplate your own death. If you have children,  having to contemplate their pending death is a far scarier thought than contemplating your own death.
The sad  reality is that many families do have to contemplate the pending death of one of their children. My family is part of this club that no family ever wants to join, but we are better positioned to deal with some of the challenges that belonging to this club brings simply because we know we have the support of the amazing staff and facilities at Bear Cottage.
They help families cope with the impossible – to care for a child who has a life-limiting illness a child who is unlikely to see their 18th birthday, or their ninth birthday, or sometimes even their first birthday.
Bear Cottage provides both respite and palliative care. It is the only children's hospice in NSW and the first children's hospice in the world to be attached to a paediatric hospital. As a result, Bear Cottage is able to provide high quality medical care for many complex illnesses in a home-like atmosphere.
Families do not pay for any Bear Cottage services and all operating expenses are raised entirely through community donations.
During last night's "Bear Affair" I hope I did not my part (I know my bank balance is a lot lighter today, but I'm proud my money is going to assist a place that is that helps families like mine).
For the special kids that stay at Bear Cottage there is no miracle cure, there is no happy ending. This does not mean that it is a sad place, far from it, in fact from first hand experience I can tell you that the place full of life.
As they say at Bear Cottage "we can't add years to their lives, but we can add life to their years".
Please help me to add some life to the short years that Bear Cottage kids have by making a donation here
Mick's Note:  thanks to those that have already followed the link and donated, greatly appreciated by a LOT of amazing kids and their families… if you haven't made a donation, please consider doing so NOW