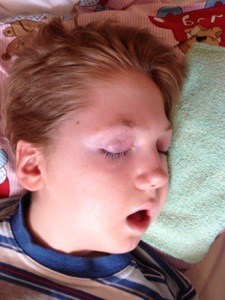 Three weeks along
It seems like a blink but we have now been at Bear Cottage for three weeks and things continue to be slow and steady. It has been three weeks of continued watching and waiting.
I should know not to expect anything concrete in life.. But when they moved us to Bear Cottage it was with a sense that there really was very little time left with Samuel. However in his usual form Samuel has decided to continue to do things in his own fashion and in his own good time.
What Samuel has given me is a lot more quiet time to reflect on life, to read and to contemplate a wide range of things.
The fundamental ambiguity of being human
Impermanence… it's an issue that we all have to deal with whether we like it or not. Exploring and becoming comfortable with impermanence is a key part of Buddhist philosophy.
One of the books I have read while sitting alongside Samuel's bed is "Living Beautifully with Uncertainty and Change" by Pema Chodron.
In it she reminds us that
whether we're conscious of it or not, the ground is always shifting. Nothing lasts, including us.
She also provides great reminder about the conditions we all experience in life and provides some excellent points on exploring the fact that we are always trying to get solid ground under our feet, always concerning ourselves with pleasure and pain, gain and loss, fame and disgrace, and praise and blame; always moving between the various states.
Sitting and watching Samuel for weeks, and as a family trying to keep things together, calm and purposeful, has been great lesson in the movement between all these states.
How to be of service..
I try to be compassionate. A strong reflection on compassion is always accompanied by the question "how can I be of service"?
In the book Pema Chodron also reminds us
Time after time… We will find that we are not really sure what will help and not hurt
As we have been making decisions for Samuel over the past weeks a constant concern has been about making decisions that won't hurt him. We have made decisions about removing additional pressure support for Samuel, some slight changes in his medication, getting used to changes in his breathing patterns…. Having to accept things that in the past we would not have accepted.
It's all an experiment
Pema invites is to live our life as an experiment and;
adopt an attitude of "I'm not sure what will help in this situation, but I am going to experiment and try this". Sometimes the result will be "Wow, did that ever NOT work", but if it is we have learnt something, and now we can try something different
Samuel's colour is not what it usually is, he looks a little blue around the lips and nose in the mornings, he is occasionally working harder with his breathing, he is clearly in pain more often.
We are figuring out what works and what doesn't. We are watching and waiting still but as always we are being guided by Samuel and it's clear he is going to decide what will happen and when.
Until them we will continue to deal with the fundamental ambiguity of being human in our situation.