As another new year approaches, I could give you tips about making new years resolutions, or give you more tips on how to guarantee you fail at those resolutions… but this year I want to focus on presence.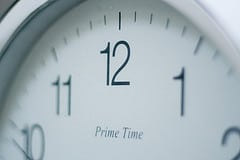 An eternity one second at a time
The sweeping
ticking
second-hand,
marking
the
steady
passing
of time.
Eight
Six
Four
Zero
Zero
times
a day.
Each tic
pregnant
with
promise
or pain.
Each
tic
a potential
beginning
or end.
Each tic
separated
by silence.
A brief
emblem
of the
infinite
nature
of time
yet
impermanent
nature
of being.
Each
tic
providing
a place
to panic
or
a place
to rest.
My wish for your new year and mine
For your new year I hope that each of those brief silences is an opportunity to rest, not panic. If troubles do befall you, I hope that you can learn to sit with your sadness and rest in the silence, and that you are surrounded by people who will help you to be resilient and deal with whatever the circumstances are. Overall, I hope that the new year is one of happiness for you and your family and friends.
I want to remind you of the gifts mentioned in my xmas post…
To your enemy, forgiveness. To an opponent, tolerance. To a friend, your heart. To a customer, service. To all, charity. To every child, an example, and to yourself, respect.
I'll be concentrating on being more present in each and every moment and trying to give these gifts throughout the year….. what will you be doing?