Where did the time go?
Sometimes it is surprising how fast another month can slip by…. Like it has since the last post.
An update on Samuel
Samuel has continued doing his own thing, having good days and bad days. Some days heavily medicated and some days less medicated.
Surprisingly he has made it through all of winter without a crashing episode of pneumonia, despite no longer having any of the respiratory support of previous years. The staff at Bear Cottage are just like us, shrugging their shoulders and all they can say is…. It's Samuel.
His tenth birthday was a milestone none of us expected to make, but it was a great (if insanely busy )week last week celebrating Tanja's 18th, Taylor's 13th and Samuel's 10th.
Another short stint at Bear Cottage
Samuel has been at Bear Cottage since Thursday last week to help us wrap up the week with other events. Taylor and I joined Samuel on Sunday afternoon to spend a few days and unwind, while Jo-Ann and Tanja stayed at home to take care of a few other things.
As usual Bear Cottage is great and provides a good break, and an opportunity to snap pictures like the one at the head of this post.
I love the environment around Manly and take the opportunity to walk/run in places around the beaches and headlands that are such a different view to home. With views like this ….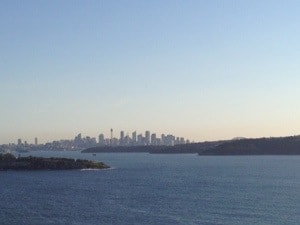 A shag on a rock.. Or the beach
Today provided a different sort of exercise though …..
Rather than a run or walk to talk in the scenery I spent 45 minutes doing soft sand and shallow water runs to try and catch a Pied Cormorant (a shag) which had a bundle of fishing line, a hook and a big fishing float wrapped around it's wing.
Calls to wires and to Manly councils animal services said they knew about the bird but couldn't do anything!
After 45 minutes, a couple of attempts (failed) and a bite from the Cormorant during one of the attempts, local Manly resident Chris showed up just as the cormorant was about to escape from under the towel during another attempt… And with speed and grace had the towel back over the bird, the bird wrapped up and subdued. We took the bird back to Chris' place (Chris copped a quick bite in the process) and cut away all of the offending material.
Chris' partner (sorry I missed her name) called WIRES and let them know that bird had been captured and the line, hook and float removed. At the request of WIRES they then took the bird to a nearby vet, where it is spending the night.
It was a different but fulfilling way to get in today's exercise.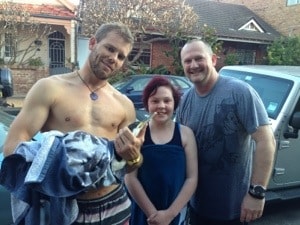 Chris, Taylor and I with the Cormorant.